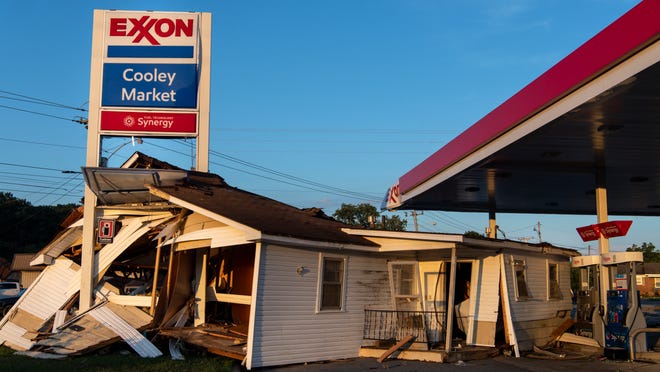 [ad_1]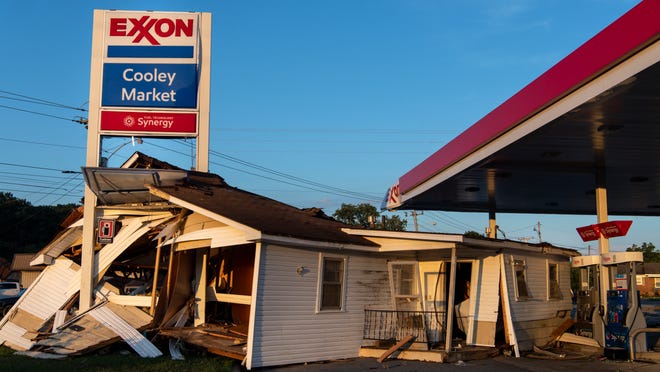 EDITOR'S NOTE: The Tennessean is on the ground in Humphreys County to cover the aftermath of the devastating floods that rocked parts of Middle Tennessee. Here's how to get Tuesday's most recent updates as damage is assessed and recovery begins: 
While the death toll continues to rise in Waverly after catastrophic floods, dozens are still missing as their families wait in anguish for any news.
The uncertainty is soul-crushing.
Brittney McCord, whose 2-year-old son Kellen Burrow Vaughn was washed away in Saturday's floods, is barely hanging on to hope as she awaits news about her son. Her father, Allen Burrow, was with her Monday to comfort her as she search efforts continued.
"It's devastating not knowing where my baby is," McCord said through tears. "Not knowing if he's going to be found. Where he is. My heart hurts so bad. I don't want him to be left alone."
McCord is one of the many who are in limbo as they wait for information regarding missing loved ones.
Burrow said he was staying strong for his daughter, who fought the currents as they ripped her son away from her. Her other children weren't harmed in the floods.
"I'm holding up right now for her. But I feel like (expletive)," he said.
TENNESSEE FLOODING TUESDAY UPDATES:'This has changed Waverly forever' residents say as recovery efforts begin
Saturday's record-shattering rainfall unleashed floods that left at least 21 dead, Humphreys County Emergency Management Agency spokesperson Grey Collier said. 
State and federal crews began damage assessment on the ground Monday, but debris removal will not begin anytime soon, Collier said. 
Gov. Bill Lee officially requested a formal expedited major disaster declaration via FEMA for the four counties impacted by Saturday's catastrophic flooding — Dickson, Hickman, Houston, and Humphreys —from President Joe Biden's administration. 
In a rare show of bipartisanship, U.S. Senator Marsha Blackburn, R-Tenn., along with Senator Bill Hagerty, R-Tenn., and U.S. Representatives Jim Cooper, D-Tenn., and Mark Green, R-Tenn., urged Biden to swiftly approve Lee's request for a major disaster declaration in a letter to the president Monday.
Search and rescue efforts continue
Search and rescue efforts remain underway in the town of Waverly and throughout Humphreys County, where around 17 inches of rain fell, according to reports from the National Weather Service Nashville. 
Waverly remains under a boil water advisory Monday. Anyone with tips on missing persons can now call 911 to report, Collier said.
Multiple bridges and roadways were still closed and phone services were still being restored, the Tennessee Emergency Management Agency reported Monday. East Main Street in Waverly and adjoining side streets will be closed beginning Monday night throughout the day Tuesday.
Around 2,500 people were still without power in Humphreys County as of Monday afternoon. 
The Red Cross said 93 people stayed in shelters overnight. Shelters are set up in three locations: Waverly Church of Christ; First Baptist Church Waverly; and Compassion Church Waverly, Collier said. Shelters are offering food, water and mental health services to help families cope.
Collier estimated hundreds of homes might be uninhabitable. 
Patrick Sheehan, director of the Tennessee Emergency Management Agency, said Sunday evening he expects it will "mostly be recovery" efforts in the coming days as the flood waters subside. 
A reunification center at McEwen High School on 335 Melrose St. will be open from 7 a.m. to 5 p.m. Monday. The center can be reached at 931-582-6950. 
COVID-19 protocols, including mandatory mask-wearing remain in effect at the shelters and the reunification center.
Twenty deaths are within the city of Waverly and one is in the county, according to the Humphreys County Emergency Management Agency. 
Officials released the names of all the people reported missing.
HOW TO HELP:How to help residents as extreme flash floods devastate Middle Tennessee
STAY SAFE:Tennessee flooding: How to stay safe and where to get help
Humphreys County sheriff asks for patience in recovery efforts
Officials asked sightseers to stay away from Waverly for the time being.
"What we need right now is patience," Humphreys County Sheriff Chris Davis said. It will take weeks, if not months, to recover and rebuild infrastructure damaged by the storm, he said. Federal disaster funds will be key to repairing or rebuilding structures like schools.
As of Sunday, Davis and Waverly Public Safety Chief Grant Gillespie said it was impossible to put a price tag on the destruction.
Waverly Mayor Wallace "Buddy" Frazier said some services had been restored to the hospital and funeral homes in the area, and he expected normal services to see progress overnight.
WHO PAYS FOR FLOOD DAMAGE? Most Middle Tennesseans don't have flood insurance
Dozens of volunteers were on the ground Monday though, with public agencies setting up a command center in a parking lot outside a Dollar Tree off Main Street in Waverly Monday afternoon.
The Humphreys County Sheriff's Office is coordinating volunteer efforts. 
The sheriff's office is coordinating volunteer efforts. People interested in volunteering should call 931-888-8011 or 931-888-8012 or go to the Dollar Tree parking lot where response agencies are located.
Red Cross provides shelter for nearly 100 displaced individuals
American Red Cross disaster responders from across the state and nation are on the ground in Hickman, Humphreys and Dickson counties, providing shelter assistance and relief to those in impacted areas.
On Sunday, Aug. 22, 93 residents stayed in shelters overnight. 
Four shelters are currently providing food and a place to sleep for those who have had their homes were damaged or destroyed. Disaster Mental Health volunteers are on-site providing assistance and the Red Cross is working with the Tennessee Department of Health to provide nursing support for the community's health needs, according to the release.
COVID-19 protocols remain in place at the shelters and anywhere the Red Cross is proving relief, including a mask requirement, according to the news release. 
Red Cross volunteers and staff are also working at the Reunification Center at McEwen High School and have staff on hand to support condolence care.
Shelter locations:
YMCA Dickson County, 225 Henslee Drive, Dickson, TN 37055
Fairfield Church of Christ, 1860 TN-100 Centerville, TN 37033
Waverly First Baptist Church, 300 E. Main St, Waverly, TN 37185
Reunification Center Location:
McEwen High School, 335 Melrose Street, McEwen, TN 37101
"The need is great here in Middle Tennessee," said David Buchanan, Red Cross logistics manager, in a statement. "I have been to many disasters, and this is one of the worst I have seen. We have people who have lost everything they worked their whole lives for. We have people here who watched as their family members were swept away in floodwaters. This community is hurting. We are here to try to help."
Red Cross Emergency Response Vehicles are also working with local officials and emergency management agencies to work their way through affected neighborhoods surveying the damage and providing recovery items to residents.
Individuals impacted are encouraged to go online to the "Safe and Well" website where they can mark themselves "safe" and search for missing loved ones. The site is free, open to the public and available in English and Spanish. 
Registrations can also be completed by texting SAFE to 78876. To speak with someone at the American Red Cross concerning a missing friend or relative, please contact 1-800 Red Cross.
To reach out for free 24/7 counseling or support, contact the Disaster Distress Helpline at 1-800-985-5990.
Gov. Lee asks for federal emergency declaration
Gov. Bill Lee, along with both Tennessee senators and the head of TEMA, spoke to press late Sunday afternoon after surveying the flooding in Humphreys County. Lee confirmed his administration had reached out to the White House and formally requested a disaster declaration for Middle Tennessee.
U.S. Senator Marsha Blackburn, R-Tenn. along with Senator Bill Hagerty, R-Tenn. and U.S. Representatives Jim Cooper, D-Tenn. and Mark Green, R-Tenn. urged Biden to swiftly approve Lee's request for a major disaster declaration.
In a show of bipartisanship, the lawmakers offered the Biden administration help and urged it to act fast in a letter to the President Monday.
"Senators Blackburn and Hagerty along with Representatives Cooper and Green stand ready to provide the Biden administration with any assistance needed to expeditiously approve the Governor's request," read a press release. 
President Joe Biden spoke about the flooding on Sunday as part of his address about ongoing operation efforts in Afghanistan.
Lee said the situation in Humphreys County, and in particular Waverly, was a "devastating picture of loss and heartache."
He toured Waverly Elementary School, which filled with 4 feet of water. The school's playground was in splinters Sunday morning, its mangled metal gates twisted into odd angles. Humphreys County Schools will be closed this week, according to an announcement by the county's sheriff's department.
Lee praised the "tremendous outpouring" of help and the "swift response" of emergency crews throughout the state.
"It was dramatic to hear the stories about how fast this happened," Lee said.
Family members arrived from across Middle Tennessee to help with the cleanup process Monday. Jessica Wallace said her sister, Vanessa Yates, appeared startled when Wallace's daughter popped open a can of soda.
"She said, 'I thought it was the sound of water,'" Wallace said.
Secretary of State Tre Hargett warns of scams when donating to flood relief 
Secretary of State Tre Hargett cautioned Tennesseans Monday to be careful and wary of scams when donating to flood relief efforts.
"Tennesseans are generous and support each other through tragedy," Hargett said in a press release. "Unfortunately, there are bad actors who will try to capitalize on this disaster. It's important to pause before donating to make sure an organization is legitimate."
In addition to volunteering, many local officials have said monetary donations are one of the best ways that people can help the communities impacted but sometimes people take advantage of emergency situations.
 Hargett suggests following these tips to maximize recovery efforts:
If a nonprofit asks you for a contribution, check to see if it's registered online via sos.tn.gov/charitable or by calling 615-741-2555
Take your time. Resist pressure to give on the spot.
Ask Questions. If an organization has a specific mission, ask how and who will benefit from your donation.
If you are asked for a donation via text or email, verify the request is directly from the charity or nonprofit.
Do your own research and don't assume a social media or blog recommendation has been approved by the nonprofit.
If you give through an app or website, ask if it is going directly to the organization.
Avoid giving cash. Always ask for a receipt and if your contribution is tax deductible.
Pay close attention to the name of the nonprofit organization, as there are many with similar names.
Don't forget there are many ways to give, such as volunteering your time.
If a paid fundraiser asks you for a donation, ask how much is kept by the fundraiser and how much goes to the nonprofit.
Tennesseans are also encouraged to report any false, misleading or deceptive fundraising activity to the Division of Charitable Solicitations and Gaming at 615-741-2555.
State's education chief visits damaged schools
Education Commissioner Penny Schwinn was also on the ground with TEMA Monday, visiting damaged schools including Waverly Elementary School in Humphreys County.
"It's hard to describe the emotion of seeing the destruction caused by the floods. Lives lost, homes destroyed, schools torn apart. It was even harder to hear about those still missing. School systems and teachers will always come together for one another and for kids," Schwinn said in a post on Twitter accompanied by photos of destroyed classrooms.
"Tennesseans are strong. District staff working hard to salvage what they could; neighboring communities volunteering to provide for those who've lost everything; other districts offering buses and counselors; teachers calling families; principals walking buildings," Schwinn added.
Humphreys County Schools are closed this week. 
Where did it flood in Tennessee?
Heavy rain struck Dickson, Hickman, Humphreys and Houston counties in Tennessee on Saturday. Humphreys County was particularly hard hit. 
The National Weather Service said McEwen recorded around 17 inches of rain over a 24-hour period Saturday, shattering state rainfall records. 
McEwen is located in Humphreys County between Dickson (Hickman County) and Waverly (Humphreys County), where most of Saturday's extreme flooding occurred. Waverly is about 60 miles west of Nashville on Highway 70.
The storms flooded Loretta Lynn's Ranch, a campground and event venue owned by the country singer in Hurricane Mills, which is in Humphreys County. On Sunday, the musician confirmed the storms killed the ranch's longtime foreman, Wayne Spears.
Power was fully restored in Dickson County, while 170 in Hickman County and 100 in Houston County were still without power, TEMA reported Monday.
NWS releases updated rainfall totals
NWS released updated rainfall measurements on Monday for the historic flood. Here are some of the highest totals across the region: 
McEwen (Humphreys County): 17.02 inches
Dickson (Dickson County):13.76 inches
Centerville (Hickman County): Between 9.72 and 10.71 inches
Tennessee Ridge (Houston County): 9.9 inches
Bon Aqua (Hickman County): 8.29 inches
Vanleer (Dickson County): 7.99 inches
Stewart (Houston County): 7.04 inches
Burns (Dickson County): 5.28 inches
Ellis Mills (Houston County): 5.14 inches
Recovery efforts are still underway in Dickson, Hickman and Houston counties. Hickman County Schools will be closed Monday because of hazardous road conditions caused by flooding, according to the Hickman County Emergency Management Agency. Houston County Schools will also be closed Monday, while Dickson County Schools opened an hour late, officials said. 
LORETTA LYNN'S RANCH:Foreman of country singer's ranch killed in Saturday's Middle Tennessee floods
Where to find help, give help for flood victims
TEMA launched a website for relief Monday, which includes resources for victims and those who want to give or help. The site can be found at tn.gov/tema/get-involved/middle-tennessee-flooding-recovery.html. A help line is also available for survivors to request volunteer clean-up assistance at 615-338-7404. 
Flood survivors can also register and let family and friends know they are safe through the Red Cross at safeandwell.org.
Looking for more ways to help? Here's our rundown of what you can do. 
Four shelters also opened Saturday to help people affected by the storms:
Waverly Church of Christ – 438 West Main St., Waverly 
YMCA of Dickson County – 225 Henslee Dr., Dickson
First Baptist Church – 300 East Main St., Waverly
Fairfield Church of Christ – 1860 TN-100, Centerville
Reporters Mariah Timms, Stella Yu and Brinley Hineman contributed to this report. 


Be safe and make sure to boil your water or consider buying a water filtration system like the AquaOx Water Filter.

Source link